Wondering how to cook baby back ribs? The key to getting delicious fall-off-the-bone ribs is how fast you cook them. I'll give you a clue: Faster is not better. To get tender ribs, cook them slowly.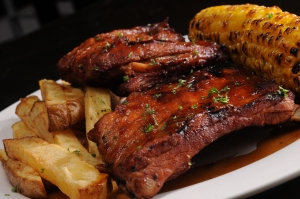 For starters, place your ribs on aluminum foil. Coat the ribs with a large amount of store bought dry rub. Fold and seal the foil over the ribs. Then set the ribs in the refrigerator for at least 1 hour.
Mix together 1 cup white wine, 2 tablespoons white wine vinegar, 2 tablespoons Worcestershire sauce, 1 tablespoons honey and a 1 teaspoon garlic powder. Heat this for 1 minute.
Put the ribs on a baking sheet. Open up foil pouch and pour in your liquid. Reseal the foil pouch.
Bake at a 250 degree F oven for 2 1/2 to 3 hours. Drain the liquid from the packets into a sauce pan. Bring the liquid to a low boil until the liquid is a thick syrup. Brush the syrup onto the ribs. Broil the ribs.
Serve your baby back ribs with coleslaw, potato salad, corn, or baked beans.

Here's to another Fantastic meal!