Learning how to cook chicken wings is a great way to accentuate your cooking repertoire. Here's one of my favorite recipes called "Lemon Garlic Chicken Wings" (Serves 4). Also, if you're just looking for cooking times and temperatures for the store-bought variety, see below times and temperatures.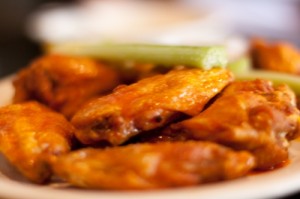 You will need the following ingredients:
- 24 chicken wings, tips removed and dredged lightly in self-rising flour
- juice of 2 lemons freshly squeezed
- 4 garlic cloves mince finely
- 1/2 teaspoon of fresh Rosemary
- 1/2 cup olive oil
- 1/2 cup sauterne wine
- Salt and pepper to taste
Brush baking dish with 1/2 cup olive oil. Place dredged chicken wings in baking dish evenly. Sprinkle with crushed garlic, fresh Rosemary, salt and pepper and wine. Bake at 350 degrees in a large baking dish approximately 20 to 25 minutes.
Chicken wings are a popular entree when served with rice, noodles or potatoes. Learning how to cook chicken wings can be a new cook's best rescue for a quick meal or for party menus. One important thing to know how to cook chicken wings is to make certain the flesh is cooked through to avoid bacteria.

Here's to another Fantastic meal!