Learning how to cook a chicken is easy with a few steps. First, wash the chicken inside and out, and then pat the skin dry. Place in a shallow baking dish that is twice as large as the bird itself. Use an oven safe thermometer to track the internal temperature of the meat for the proper cooking time.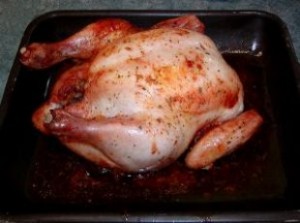 You will need the following ingredients:
- 3 tablespoons olive oil
- 1 Teaspoon kosher salt
- ½ teaspoon black pepper
- One to 2 teaspoons granulated garlic
- 1 teaspoon fresh thyme, chopped
- ½ teaspoon paprika
- 2 sprigs fresh rosemary, 4 to 6 inches long
First, coat the bird in olive oil and then sprinkle on all the other ingredients, excluding the rosemary. Take the time to massage in the seasonings; this will ensure that they are embedded into the skin and will tenderize the meat as well. Insert the sprigs of rosemary into the cavity. Next, preheat the oven to 350 degrees. Insert the probe of the thermometer into the thickest part of the breast about two inches. Lastly, put the chicken in the oven and bake until the internal temperature reaches 160 degrees, then take it out and cover with foil. Let the bird rest for 10 to 15 minutes, and then serve. Enjoying a whole chicken is easily done with the right tools and a few simple steps.

Here's to another Fantastic meal!