The new filet mignon is surely turkey breast. Low in calories, sodium and fat, rich in protein and tryptophan (generator of mood enhancing serotonin), turkey breast can be juicy, challenging most dark meat lovers' beliefs! Learning how to cook a turkey breast is easy!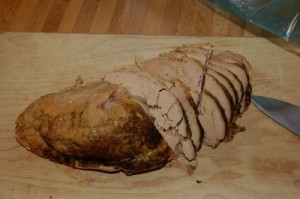 You will need the following ingredients:
- 1 turkey breast
- 2 tbsp. extra virgin olive oil
- 1/4 c. grated parmesan
- 1 chopped basil leaf
- pepper
- 1/4 cup filtered water
Rinse the breast well, and pat with oil on all sides. Your shallow baking pan should also be lightly oiled with the same. Blend dry ingredients together on a plate, then coat breast entirely with mixture. Place breast in the pan already oiled and with the water. Cover with foil. Bake at 325 degrees for 25-30 minutes.
Compliments include a reisling or chardonnay, baby rose potatoes, green beans, and a light, tangy dessert such as key lime or lemon pie. Enjoy your new best food friend!

Here's to another Fantastic meal!