Cooking a turkey may seem intimidating, but it is actually very easy. All you need are a few basic ingredients and plenty of time to allow the meat to bake to juicy perfection. Find out how to cook a turkey in the oven with these tips and instructions.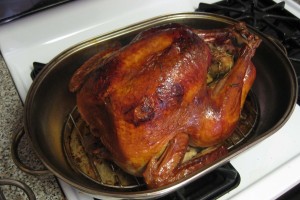 First, prepare your bird by removing the giblet bag and neck and preheating the oven to 325 degrees F. Mix one-quarter teaspoon each of dried sage and rosemary with a pinch of salt in a small bowl. Gently coat your turkey with three tablespoons of olive oil and sprinkle on the spice mix. Lay the bird breast side up in a roasting pan. Add about one inch of chicken broth. Cover with a loose tent of aluminum foil and put in the oven.
Cooking times will vary depending on the weight of the bird. For example, a 14 pound turkey will take about four hours to cook. Your turkey is ready when the thigh reaches a temperature of 165 degrees F. Cooking a turkey in the oven is a great way to ensure a juicy, flavorful bird with all the nutrients but not the excess fat of other cooking methods.
Now you know how to cook a turkey in the oven. What should you enjoy with the main course? Turkey pairs well with roasted potatoes and winter vegetables such as carrots, turnips and Brussels sprouts. As turkey is high in protein, B vitamins, selenium and zinc, but low in fat, you known you are serving your friends and family not only a delicious meal but a healthy one as well.

Here's to another Fantastic meal!