Do you know how to cook beans? If your bean recipe goes like this: Open can, heat, eat; then let me tell you right now how to cook beans people will rave about with this easy recipe: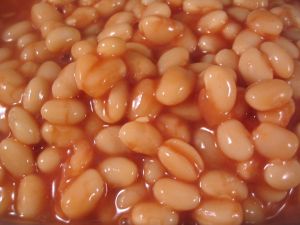 You will need the following ingredients:
- 2 cans Bush Original Baked Beans
- 8 pieces bacon cut in half
- 1 medium onion (diced)
- 1/2 cup brown sugar
First, cook bacon in saucepan, remove and set aside, saving a bit of the grease in the pan. Cook the onions in the bacon grease until tender. Add beans and brown sugar to the pan, mixing thoroughly. Transfer to oven dish, place bacon strips on top of mixture and bake at 350 for an hour and a half.
Beans have many health benefits, including antioxidant properties and fiber content. Experiment with the many variations and healthier bean recipes as well, like red beans and rice with a glass of milk; simple and divine!

Here's to another Fantastic meal!