Although summer may be the most common time of the year to cook ribs, you can still make a delicious rack anytime of the year. Convenience normally drives people to cook their ribs on the grill but you can make just as juicy ribs in your oven. This is a great recipe that tells you how to cook ribs in the oven. When you are preparing for your dinner you will need the following ingredients: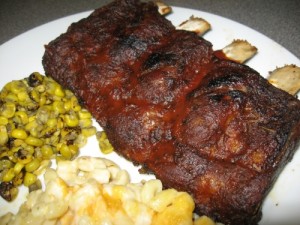 You will need the following ingredients:
- 1 full rack of ribs
- 1 bottle of Memphis dry rub
- 1 bottle of bbq sauce of your choosing
- aluminum foil
- cooking spray
Prepare your ribs by placing them on an aluminum foil covered baking sheet and covering them completely with the Memphis dry rub. Spray a sheet of aluminum foil with cooking oil, place ribs in center and wrap the ribs in the foil. Place them on your baking sheet and bake at 250 degrees for three hours. After three hours remove them from the oven and allow to cool for 20 minutes before unwrapping. Once the ribs have cooled to safe handling temperature slather them with bbq sauce and serve!

Here's to another Fantastic meal!