Today, sausage is more than a breakfast food. Sausage is made from a variety of different meats and spices. There are many types of sausage on the market today. Your choices are endless. The sausages you see in this photo are yummy hand-made specialty sausages. This simple recipe will show you how to cook sausage.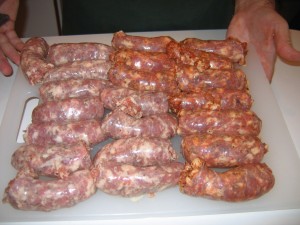 To begin cooking sausage, heat a skillet to medium heat. After the skillet has warmed up, place three tablespoons of water into the skillet. Place the sausage into the pan and cover. Heat the sausage for 10-15 minutes. Make sure to flip the sausage often. Next, remove the lid and cook for an additional ten minutes. When the sausage is a golden brown, it is ready to eat.
When choosing a side dish for sausage, your choices are endless. For a Latin flair, serve the sausage with red beans and rice. Sausage is also great with potatoes and vegetables. Top off the meal with Beaujolais wine. Eating moderate amounts of sausage can help the body maintain muscles mass. Sausage also gives you extra energy.

Here's to another Fantastic meal!