Wild rice is a great alternative to white rice. The cooking time for wild rice is a bit longer compared to white rice. If the wild rice is undercooked, the rice may have a hard texture. This will make the rice difficult to chew. This simple recipe will show you how to cook wild rice that will make any mouth water.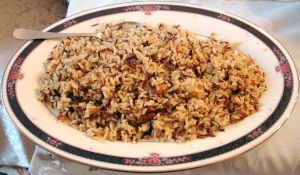 Before cooking wild rice, the rice should be soaked in water for 24 hours. After the rice has soaked, bring four cups of water to a rapid boil. Once the water is boiling, add one cup of rice and bring back to a full boil. Once the water is boiling, cover the pan and let simmer for 30 minutes. After 30 minutes, check the rice for tenderness. If the rice is still on the chewy side, cook for an additional 10 minutes. After cooking is complete, drain and season as desired.
Wild rice is a great side dish for steak or chicken. You can also place the rice in casseroles or soups. Wild rice is not only delicious, it offers many health benefits. Wild rice is high in fiber and low in fat. Eating wild rice can lower the risk of diabetes and heart disease.

Here's to another Fantastic meal!