Duck is often rumored to be "gamey" or "dry" but that's because many people haven't learned about the subtle differences between cooking a duck and cooking another animal, like a chicken. Many people aren't quite sure how to cook duck, but by far the easiest method is to roast it. Roast duck is also a very classy and delicious way to prepare a duck.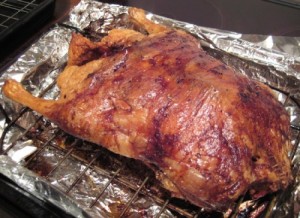 You simply need to preheat your oven to 375 degrees. Rinse your duck, prepare it with a bit of salt and pepper for seasoning and place it in a roasting pan. It takes around 3 hours for the duck to cook. You might want to stay close to your kitchen because you will need to turn it as well as baste your duck every half hour. Once the skin becomes crispy your duck is done. Take it out of the oven and let it rest approximately 15 minutes before slicing and serving.
Duck meat is considered to be white meat which makes it a healthy dinner choice. You can also use fruits or spices to give your meal a more exotic flavor.

Here's to another Fantastic meal!